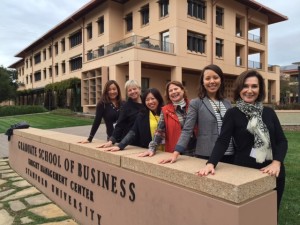 Wow!  What a thrill to be on the Stanford campus.  Last week myself (in the orange vest) and dozens of my Alain Pinel associates attended a Design Thinking Boot Camp at Stanford University's Graduate School of Business as part of APR's collaboration with Stanford's Innovation and Entrepreneurship Program.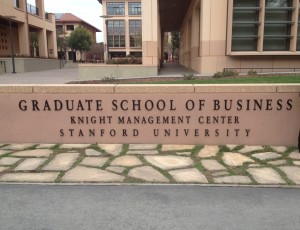 The first part of our 3 part APR Stanford Innovation Certificate program launched last year with an on-line Negotiation Class taught by Professor Maggie Neale which was awesome!  Last week the in-person class on the Stanford University campus in Palo Alto was even more amazing.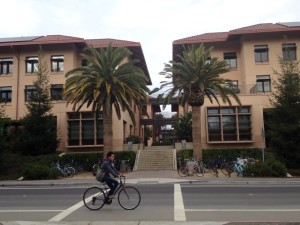 The Stanford campus is awe-inspiring and is so huge and spread out that the students all need to ride bikes to get around.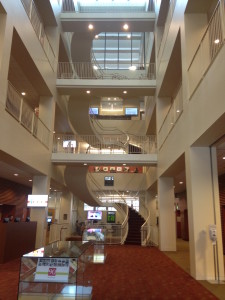 Our class was on the top floor of the library and as I walked in  the circular staircase leading to all floors was front row and center.  I was running late so took the elevator, but walked down this staircase  later getting a good view of all the different floors.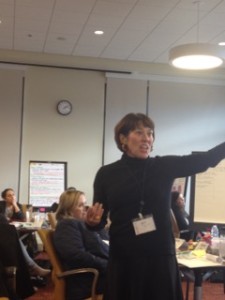 The energetic and enthusiastic Professor Sarah Soule led us  on an amazing journey through the Design Thinking process.  She was in continual motion for the whole day-long class and kept us all on our "toes"!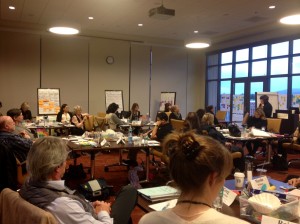 There were 40-50 of us from all the different Alain Pinel offices.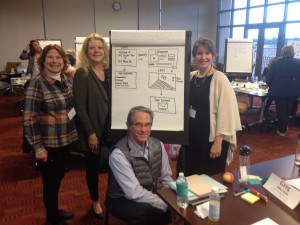 We were divided up into teams.  I teamed up with Rainy Hake, executive vice president and COO of Alain Pinel, Marsha Williams APR San Francisco, and Greg Albertson who is a realtor with me in our Carmel office.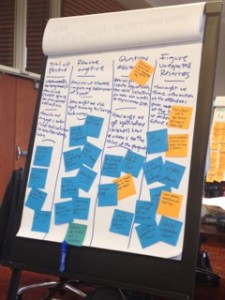 We shared the results of our pre-class homework and did a lot of brainstorming.  Made me remember how effective brainstorming is when creative ideas are just allowed to flow with no judgements!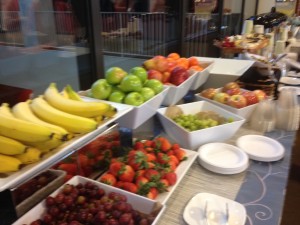 Of course, the brain needs energy to work effectively and delicious food and drink were available at all times.  Who said snacking was bad – not if you're eating the right thing!  Our lunch that was served at another location on campus was also first class.
Our  next task was to develop a prototype to solve a "problem".  Below is a prototype that one of the other groups developed.  This is an app for an iPad demonstrated in a very colorful fun way.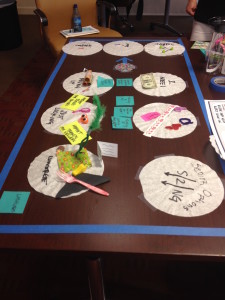 After our team's brainstorming we developed an App for an iPad to solve a specific "problem" that one of our team members had put forth.  Her client wanted to visit open houses but wanted to look on her own without an agent "talking at her".   We developed an app that had every imaginable piece of information about the property and community included on it.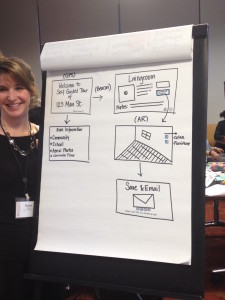 Now come the users.  Ta Tah . . . now we were going to have to explain our concept to a prospective user and get their input about our idea.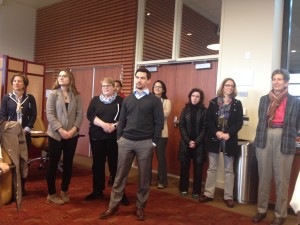 Students from a Design class were our "guinea pigs".  Here they are just having walked into the room wondering, "what in the world are these people creating?"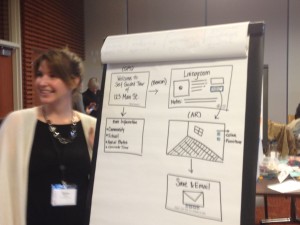 Rainy explained how it works to our "User".  We received some valuable suggestions we hadn't thought of and added the ideas to our design.
By the end of the class our brains had been exercised, we had enjoyed great food, we had been inspired by a wonderful teacher, we had worked as a team, and had made some new friends.  A day well spent.  The piece de resistance was receiving this beautiful Certificate of Completion from the Stanford University Graduate School of Business.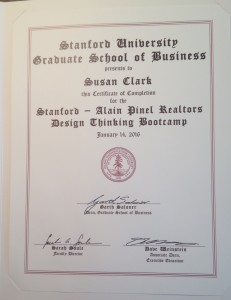 As I left the building I noticed this lovely quote by Philip H. Knight an MBA student from 1962 on a stone tablet inlaid in the plaza.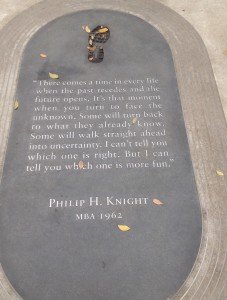 "There comes a time in every life when the past recedes and the future opens.  It's that moment when you turn to face the unknown.  Some will turn back to what they already know.  Some will walk straight ahead into uncertainty.  I can't tell you which one is right.  But I can tell you which one is more fun."
By the way, in case you don't recognize the name.  Phil Knight is co-founder and chairman of NIKE.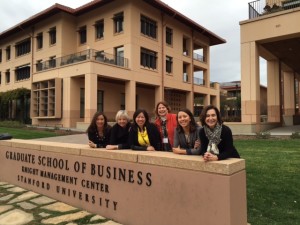 So here we go as we leave Stanford University letting the past recede and facing the unknown.  Not sure which path the others will take, but I'm going for the one that's more fun!