Living the #Carmellifestyle . . .  by the way, what does that mean anyway?  I guess it's different for everyone depending on "what floats your boat" but I'll give you a taste of what I think is fun around Carmel, because that's just what I did yesterday on a gorgeous Saturday morning.  (Yes, realtors do take a day off once in a while!)  I started off the day having a lovely breakfast with my hubby and then after a kiss good-bye, I took off on my adventure.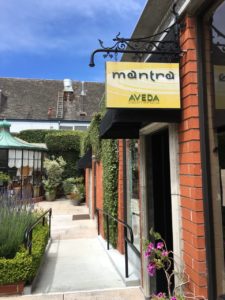 First stop was my appointment with Veronica, owner of Mantra Salon, for a cut and color.  She is so amazing and I always feel beautiful when I walk out of there.!  Since I'm preparing for a trip I had a long list of "to do's" and having my hair done was #1.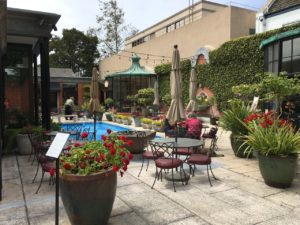 Mantra Salon looks out onto this beautiful courtyard, Court of the Fountains – how Carmel is that!  As I left sporting my new do, I noted the mark on my tires,  and knew it was time to move my car before the meter maid came around again.   I found a lucky spot right on Ocean Avenue right where The Art Festival was in full gear.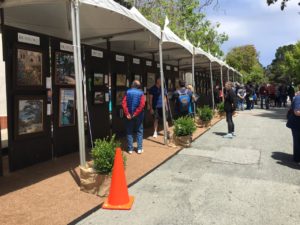 Artists come from all over the country to participate in the Annual Art Festival & Plein Air Competition.  They scatter themselves all over the Monterey Peninsula Wednesday – Friday painting all of our wonderful scenery.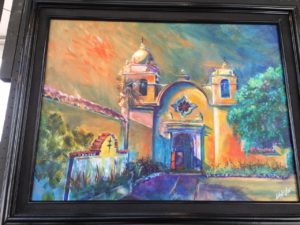 Then the paintings are hung in the outside gallery on Mission St. between Ocean and 6th for viewing, judging, and bidding on.  The winning bidders will take home the paintings to hang in their homes.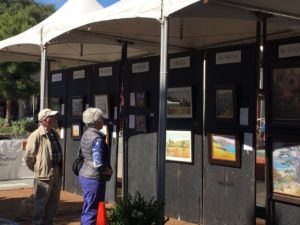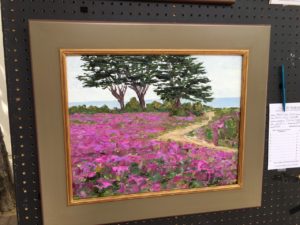 All of a sudden I spotted a very familiar scene.  Stacy Barter had painted our charming Alain Pinel Realtors office in downtown Carmel and her painting had won first prize in the Plein Air Competition!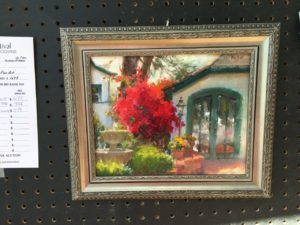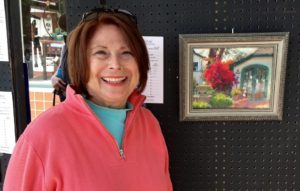 Well, that was certainly a wonderful discovery, but my stomach was growling so I headed to Carmel Plaza  to the Carmel Coffee and Cocoa Bar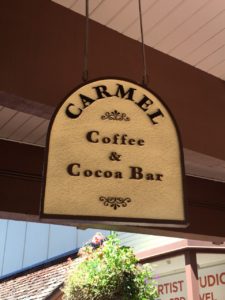 to grab a delicious Greek Salad before the fashion show which would  begin at 1:00pm.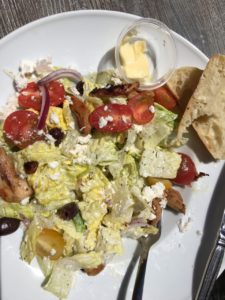 Mira Schumacher, the owner of the cafe, greets her customers by name and makes them feel very welcome . . . and has dynamite food!  Since the cafe has both indoor and outdoor seating, I settled on a table in the sun to enjoy the lovely weather as well as the 60's music that was already blaring throughout the plaza to put us in the 60's mood.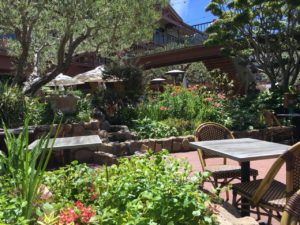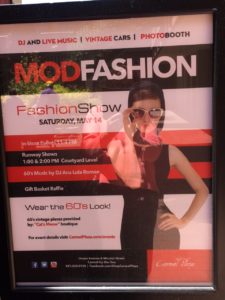 After lunch I hurried to a seat in the area of the  plaza where the Fashion Show was to take place.  The master of ceremonies was just about to begin.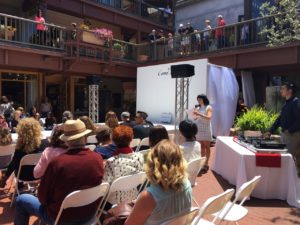 I've always loved Fashion Shows so was really looking forward to it!
Here we go . . .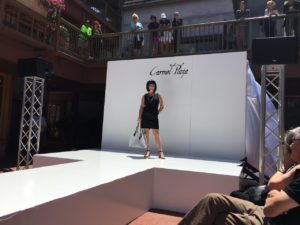 to be continued . . . .