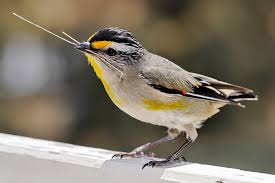 Hope is the thing with feathers that perches in the soul                       And sings the tune without the words                                                              And never stops at all.                                                                                                And sweetest in the gale is heard;                                                                              And sore must be the storm                                                                                      That could abash the little bird                                                                                   That kept so many warm.                                                                                           I've heard it in the chillest land                                                                                  And on the strangest sea.                                                                                              Yet never, in extremity,                                                                                                   It asked a crumb of me
~Emily Dickinson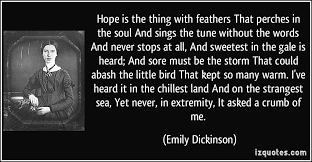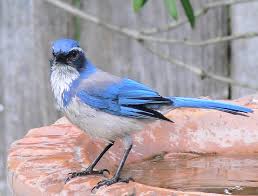 My favorite bird by a long shot is the blue bird.  They visit me often in my yard pecking bugs from the garden or hopping into the bird bath for a quick rinse.  When my mother was alive, she loved the blue birds and at the end when she could barely speak she pointed at them from her bed which overlooked the garden to let me know that she knew they were there and saying hello.  Now whenever I see a blue bird I am convinced Mother sent them from heaven as a harbinger of hope and  to say a quick hello to her daughter.
One person's theory on the meaning of the poem.  "Emily Dickinson describes hope as a bird with feathers that perches in the soul.  Where it sings without words or pause.  The song of hope sounds even in the Gale and in the coldest places.  She says that she hears the bird of hope "in the chillest land" and "on the strangest Sea" but it never leaves her alone and it never asks for a crumb of her, even in the worst conditions,"
So next time you see a little bird saying hello, think of it as a harbinger of hope reminding you of the constant singing in your soul.